Pierce County WA Custody Modification Paralegal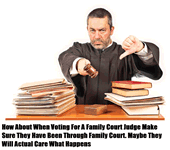 Modification of custody involves the modification of existing parenting plans. The process is started with the filing of a petition and other documents. When referring to custody, it simply means changing where the child primarily resides.
This is not the correct method if you are a nonparent trying to obtain custody of the children, it is a method reserved only for parties that already have parenting time with the children, such as the mother and father.
More often than not, child support is modified along with the change in custody. Therefore, the paying parent becomes the parent receiving child support.
A custody change can occur by agreement or possibly by forced court action. When the action is forced upon the other party, you will need to prove that there is adequate cause for such a change in custody. Adequate cause is a very important make it or break it threshold a party must make it over or the case will not proceed.
Pierce County Paralegal Services can help you prepare the documents, case, and commence discovery.
Some counties require that you take the parenting seminar again.
Legal Document Preparation Fees for all types of custody paperwork, including joint custody, split custody, shared custody, and full custody.
*Agreed paperwork includes the final paperwork.
For a complete list of our family law document preparation fees.
| | |
| --- | --- |
| | If you do not see or are unsure about what type of help you need, please call 206-751-2770. We do not currently work with adoptions. |
Local Availability Information:
Child Custody paperwork preparation is available for most of Washington state for the surrounding areas of:
Pierce County of Washington State.
Including the city areas of:
Vancouver, Battle Ground, Camas, Washougal, Ridgefield, La Center, Yacolt, Woodland, Washington State, WA