Child Relocation when Filing Divorce Documents in Washington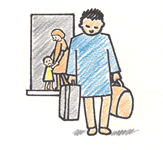 Documents prepared to file for divorce and relocate the children simultaneously in Washington State Courts.
Divorce addresses property and debt allocation. Possibly a party is requesting spousal support. If the divorce involves children there are custody, visitation, decision making, and child support that is addressed.
If one of the parties is seeking custody and also seeking to relocate the children, it can impact property and debt allocation, child support, and the parenting plan in ways that a normal divorce does not.
Local Availability Information:
Family law document preparation is available for most of Washington state for the surrounding counties of:
Pierce County of Washington State.
Including the city areas of:
Tacoma, Auburn, Lakewood, Puyallup, University Place, Bonney Lake, Edgewood, Sumner, Fife, Washington State, WA